JP HENAO
There's no denying that our Founder, Ecuadorian native with Colombian Roots, JP Henao, is passionate about flowers.
Passionate about making a change, about creating a progressive industry, exploring new opportunities to improve methods of business, and evolving from the antiquated systems that weaken the Floral Industry.
Here's a nutshell history about our CEO:
JP got his start in Ecuador where he became exposed to the land. He soaked up knowledge like a rose blooming from the soil and gained first-hand experience of every process in floriculture production.
Shortly after, JP transferred to a wholesale division in Tallahassee, FL where he gained invaluable wholesale/trade experience. He was able to go deep into the roots of the dynamics of growing relations with retail clients. And it was during this pivotal moment where he was enlightened about the real challenges facing the industry: fear of change.
MC TOBAR
Our VP of Marketing and Co-Founder, MC Tobar.
Exposed to the floral industry since childhood, she is one of the reasons why our business flourishes so beautifully.
She's the pillar of our Administrative and Financial Departments.
As a creative force, she's the reason why we know anything about flowers, she has an eye for trends, and she is essential for developing our ever-evolving portfolio of product.
MC is at the forefront of our Customer Relation's Department, spearheading strategies, developing modern approaches to cultivating meaningful relationships with our customers.
Above all, MC is the enforcer of values and family-oriented traditions we're incredibly proud to nurture.
Watch Our Official Corporate Reel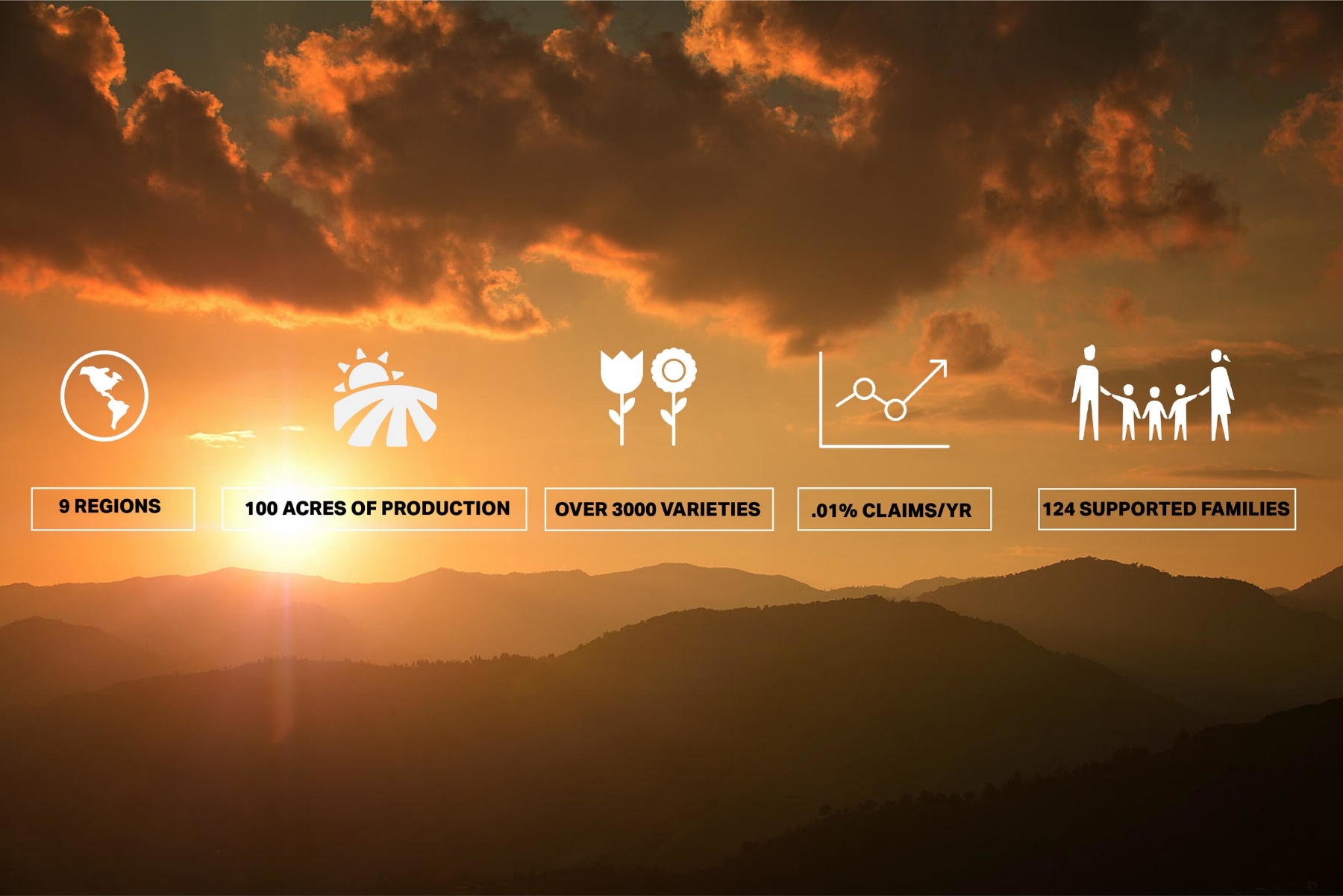 What Does it Mean to Be Proud of Our Lands?
Curating flowers isn't just about assuring each petal is top quality. Curation is about ensuring every piece of the puzzle is quality assured.
We have to guarantee the soil where they grow is a premier land too, we have to ensure that the hands that grow our flowers are passionate about this business.
Our Roses and Sunflowers grow at the foothill of The Cotopaxi and Cayambe Volcanoes where temperature, luminosity, and soil conditions are optimal for unmatched quality.
We curate the fertile lands in the hills of Colombia where some of the strongest and durable Hydrangeas harvest.
And we make sure to team up with quality farms in Central America, Holland, South Africa, Thailand, and Florida (USA)
When you ask yourself about curation, this is what curating our lands is about: our unmatched attention to every detail in the process.